Ajikan Meditation Gathering
Once every month Chishakuin Temple holds an Ajikan Meditation Gathering. Ajikan meditation is a type of Shingon meditation which Kōbō Daishi (Kūkai) preached that anyone could undertake. We can use it to cultivate our spirits and raise our inner selves to a higher level.
For instance, when we are cleaning a room or getting ourselves dressed up, we pay attention to all the outer details which may catch our eye, but are we paying attention to what cannot be seen, such as the state of our inner selves? When we pass each day so casually, we often fail to notice the mess in our own minds. Meditation is the act of looking as deep as possible into that inner self. It is a mental training of the heart, able to be performed by anyone. Please refresh your mind through our esoteric meditation method of Ajikan. Anyone is allowed to attend.
※Please make a reservation beforehand either online.
If you wish to participate, please use this reservation form.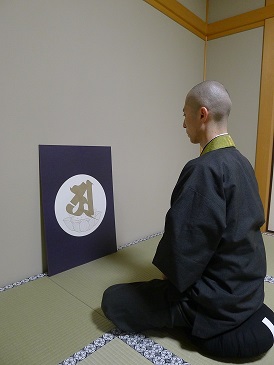 Date/Time: 12th of every month (Except August and December, which are on the 8th)
Reception (Morning Session): From 10:30am Start Time: From 11:00am (Around 1 hour)
Reception (Afternoon Session): From 1:00pm Start Time: From 2:00pm (Around 1 hour)
For first time participators, please arrive 30 minutes before the start to listen to an explanation of the meditation. Ten minutes after the meditation has started entrance will no longer be granted. Place:Chishakuin Temple Kōdō Lecture Hall
※Please go to the Visitor Admissions Office at the appointed time (Place #13 on the link).
Registration:Please click here to make a reservation online.
Participation Fee: 500 yen (For votive candle)
Capacity : 15 people
There will be a simple exercise included, so please wear clothes that are easy to move around in. (There will be a changing room available.)
The capacity is limited by the venue. It is possible to make same-day reservations, but if the capacity is already reached by prior reservations, same-day requests may be denied.
Chishakuin Main Head Temple Guidance Department Public Relations Section (Sōhonzan Chishakuin Kyōka-bu Kyōsen-ka)
605-0951 964 Higashikawarachō,Higashiōji Nanajo-sagaru,Higashiyama Ward, Kyoto City, Kyoto Prefecture