About the Chisan School of Shingon Buddhism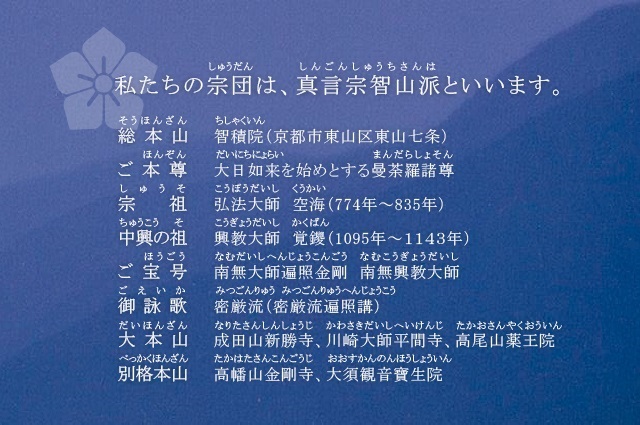 Buddhism and the Shingon Sect
Buddhism emerged in India around 2,500 years ago, as Siddhartha Gautama achieved enlightenment and became a buddha. In a way, we can define Buddhism as the "Teachings of the Buddha." Those teachings instruct us on how to relieve the suffering of human beings through various ascetic practices​. In that sense, Buddhism is also the teaching of how to become a buddha.
The Buddhism which emerged in India first spread in Central Asia, then passed through China and Mongolia (in a form known as Hokuden Bukkyo/Mahāyān Buddhism), before reaching Japan through the Korean Peninsula around the sixth century.
Moreover, Buddhism also spread from India into Ceylon​ (present-day Sri Lanka), and from there, in the 11th century, to Burma (present-day Myanmar) and Thailand (in a form known as Nanden Bukkyo/Theravāda Buddhism).
This is how Buddhism spread throughout all the places of the world. From among the different sects, Shingon Buddhism, started by the monk Kōbō Daishi (Kūkai), is considered to be especially esoteric.
Esotericism (or Vajrayāna/Tantric Buddhism) is said to mean "the teachings that will make the secret teachings of Buddha become clear." These esoteric teachings are said to have already existed in India when the Buddha Siddhartha Gautama lived. They were gradually codified around the 7th century and then spread into China and Tibet in the 8th century. Those teachings were then brought to Japan by Kōbō Daishi and became Shingon Buddhism.
Shingon Buddhism and its Founder Kōbō Daishi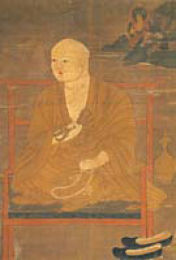 Kōbō Daishi(Kūkai) (774-835) was born on June 15th of Hōki 5 (774) in present day Zentsuji city, Kagawa Prefecture. He came to the capital when he was 15 years old and at the age of 18, he entered university. There he studied Chinese philosophy and ideology, but soon found that he questioned university academics which were mostly used for personal career gain.
Later, when he was 24, he wrote the Sangō Shiiki, which summed up his beliefs on Buddhism as the supreme teaching. He entered the priesthood and​ set out to travel around the countryside, undergoing ascetic training in many places.
One night, he had a dream that under the east tower of Yamato Kumedera Temple was the Dainichi Sutra (the Mahavairocana Sutra), the sutra that explained the esoteric secrets that were the ultimate teachings of Buddhism. Kōbō Daishi then visited the location and happened across the sutra.
However, upon reading the Dainichi Sutra, he found that he could not fully understand its meaning. In fact, there was not a single teacher in Japan who could answer his questions.
Seeking a master to teach him, Kōbō Daishi decided to travel to Chang'an, the capital of the Tan Dynasty (present-day China).
In July of Enryaku 23 (804), the 31-year-old Kōbō Daishi set off from the shore of Tanoura,Matsuura County in Nagasaki, Kyūshū aboard a Japanese envoy ship to Chang'an.
The group encountered many difficulties on their travels including rough sea storms and a long journey by land, but finally, half a year after they had sailed off, the envoy reached the capital of Chang'an.
There Kōbō Daishi toured various temples, looking for a master of the esoteric secrets. In Shōryūji temple, he came upon Huiguo (in Japanese Keika Ajari), the only priest to whom the true esoteric teachings were known. Huiguo passed on all that he had been taught to Kōbō Daishi, including every secret technique of the esoteric teachings. Thus, Kōbō Daishi became the successor of the true esoteric teachings.
Huiguo told Kōbō Daishi, "Return to Japan as soon as possible and spread the esoteric teachings to give the people joy." That is why Kōbō Daishi cut his training short to return to Japan after only two years instead of the expected twenty.
After his return, in accordance with Huiguo's teachings, Kōbō Daishi established the Shingon sect, using Kyoto's Kyō-ō-gokoku-ji Temple (Tōji Temple), and Wakayama's Mount Kōya as his bases for activity.
His hard work left a significant mark on history, not only with his religious endeavors, but also in a wide range of activities such as his social work, literary activities, and various writings.
Finally, on March 21st of Jōwa 2 (835), at Mt. Kōya at the age of 62, his mortal life ended, and he entered nirvana.
The Shingon Sect and its Restorer, Kōgyō Daishi

Approximately 300 years after Kōbō Daishi passed away, amidst Mount Kōya's continuing loss of vitality, the holy priest Kōgyō Daishi (Kakuban) (1095-1143) was grieved by the temple's circumstances and instigated many reforms to revive Kōbō Daishi's teachings.
Kōgyō Daishi was born in Kahō 2 (1095) on June 17th in what is now known as Kashima city, Saga prefecture. Having become a monk at the age of 16, he went to Mt. Kōya and established Denbōin Temple in Daiji 5 (1126) as a place to study and debate Kōbō Daishi's teachings. Through this, Mt. Kōya began to produce many Buddhist scholars and its old glory began to return.
However, in Chōshō 3 (1134), when Kōgyō Daishi became the head priest of Mount Kōya's Kongōbuji temple​, he was met with fierce opposition from a group of monks who did not approve of Kōgyō Daishi's reforms. Thus, turmoil ensued.
With the battle intensifying, Kōgyō Daishi finally gave up his position. In Hōen 6 (1140), he moved his practice to Mount Negoro (Wakayama prefecture), where he had previously been bestowed land.
Following that, he continued to develop Mount Negoro, but three years after the move from Mount Kōya, on December 12th of Kōji 2 (1143), he passed away at the age of 49.
The holy priest Kōgyō Daishi had not only revived Kōbō Daishi's teachings, but he had also educated many students and established the"Shingi"(New Shingon) doctrine of Shingon Buddhism. Therefore, he is referred to as the "Restorer" of Shingon Buddhism. This is the reason that at Shingon temples of the Chisan school, statues of both the Founder Kōbō Daishi and the Restorer Kōgyō Daishi are enshrined and their enlightened names "Namu Daishi Henjō Kongō" and "Namu Kōgyō Daishi" are chanted.
The Shingon Chisan School and its Main Head Temple, Chishakuin Temple

Our main head temple is called Chishakuin Temple, located in Higashiyama Nanajō in Kyoto city.
In the mid-Ashikaga period, it was established by the great priest Chōsei-hōin as one of the temples inside of the Mount Negoro complex in connection with Kōgyō Daishi.
After Kōgyō Daishi passed away, the honored and learned priest Raiyu-sōjō (1226-1304) had Daidenbōin Temple and Mitsugonin Temple moved from Mount Kōya and rebuilt on Mount Negoro. The temples flourished more and more, and it is said that in the years of Tenshō (1573~), Mount Negoro had over 2,000 priest lodgings and had grown significantly in both political and economic power.
However, that power and influence drew the attention of the feudal lord Toyotomi Hideyoshi. He attacked Mount Negoro in Tenshō 13 (1585) and burnt the religious buildings down to ashes throughout the mountain. At the time, Genyū-sōjō, who was Chishakuin Temple's head priest, was able to flee with his disciples. They wandered from place to place, hoping to have a chance to rebuild Chishakuin Temple, but unable to find a peaceful place.
It wasn't till 16 years later that they finally did. In Keichō 6 (1601), they were gifted a temple in present-day Higashiyama, Kyoto by the Shogun Tokugawa Ieyasu, where they were able to rebuild Chishakuin Temple (Iobusan Negoroji Chishakuin).
Chishakuin Temple built upon the traditions of its Negoro period, focusing intently on ascetic training and the education of its doctrine in its role as an academic temple. It became known as a "learning temple," as it opened itself up to teaching common students and priests from other schools. This is why it was able to produce many scholars in the Edo period.
However, in the Meiji Period, some of its land was confiscated due to the new government's Shinbutsu Bunri (Separation of Buddhism and Shintoism) policy. In Meiji 15 (1882), more misfortune struck the temple when its Kondō Main Hall was lost in a fire. Nevertheless, the temple was able to overcome these misfortunes and in Meiji 33 (1900), the temple became the main head temple of the Shingon Chisan school. Chishakuin Temple was officially named Iobusan Negoroji Chishakuin. It consists of the honorific mountain name Iobusan, the formal temple name Negoroji, and the ingō temple name of Chishakuin.
That is how Kōbō Daishi's teachings were handed down from Mount Kōya to Kōgyō Daishi on Mount Negoro, and then on to Chishakuin Temple. And now Chishakuin Temple is the main head temple of the Shingon Chisan school and has 3,000 sect temples for which it provides funerary rites as well as assists with prayers.
Our Religious Group, The Chisan School of Shingon Buddhism Teachings

Dainichi Nyorai Buddha (Vairocana), the source of light and wisdom, appears in many forms throughout many ages and places just like the light of the sun, preaching to save all livings beings. The bird and the flowers, the wind and the moon, the trees and the plants, all the wonders of nature and all the universe are Dainichi Nyorai's preachings.
Kōbō Daishi expressed the self-discovery that everyone was inherently a buddha in the words "Sokushin Jōbutsu" or "(the possibility of) attainment of Buddhahood during this lifetime."
In other words, while other Buddhist teachings outside the esoteric ones taught that one could only become a buddha through an endlessly long period of ascetic practices referred to as "sangō jōbutsu," Kōbō Daishi stated that one could actualize the "buddha" in "the self" in one's earthly body just as it was.
That is why we people and the Dainichi Nyorai Buddha are essentially the same.
Principle Objects of Worship
Mandalas featuring Dainichi Nyorai Buddha among other various buddhas, bodhisattvas
◆Main Head Temple Chishakuin Diamond Realm Mandala
◆Main Head Temple Chishakuin Principal Buddha, Dainichi Nyorai Buddha
◆Main Head Temple Chishakuin Mandala born from Great Mercy Matrix
Teachings
Dainichi Nyorai Buddha (Vairocana), the source of light and wisdom, appears in many forms throughout many ages and places just like the light of the sun, preaching to save all livings beings. The bird and the flowers, the wind and the moon, the trees and the plants, all the wonders of nature and all the universe are Dainichi Nyorai's preachings.
Kōbō Daishi expressed the self-discovery that everyone was inherently a buddha in the words "Sokushin Jōbutsu" or "(the possibility of) attainment of Buddhahood during this lifetime."
In other words, while other Buddhist teachings outside the esoteric ones taught that one could only become a buddha through an endlessly long period of ascetic practices referred to as "sangō jōbutsu," Kōbō Daishi stated that one could actualize the "buddha" in "the self" in one's earthly body just as it was.
That is why we people and the Dainichi Nyorai Buddha are essentially the same.
Fundamental Sutras
Dainichi Sutra (Mahāvairocanābhisaṃbodhi-vikurvitādhiṣṭhāna-vaipulyasūtrendrājā nāma dharmaparyāya)
Kongōchō Sutra (Sarva-tathāgata-tattva saṃgrahaṃ-nāma-mahāyāna-sūtraṃ)
Recited Sutras
Hannya Rishu Sutra
Hannya Shingyō Sutra(the Heart Sutra)
Kannon Sutra (the Lotus Sutra) etc.
Various Shingon and Dharani chants such as Kōmyōshingon (Mantra of Light), etc.
Enlightened Names (of Buddhas)
Namu Daishi Henjō Kongō (Kōbō Daishi's Enlightened Name)
Namu Kōgyō Daishi (Kōgyō Daishi's Enlightened Name)
Pilgrim's Hymns/Hymns of Praise
Mitsugonryū (Mitsugonryū Henjōkō)
Branch Temple
Shinpukuji Temple Minato Ward, Tokyo
(Honorific Mountain Name: Manishuzan, Ingō Temple Name: Hōkōin Temple) Atago,
Major Head Temples
Naritasan Shinshoji Temple Narita City, Narita
Kawasaki Daishi Heikenji Temple Daishimachi, Kawasaki ward, Kawasaki City
Takao-san Yakuo-in Yuki-ji Temple Takaomachi, Hachiōji City
Special Head Temples
Takahata Fudoson Kongoji Temple Takahata, Hino City
Ōsu Kannon Hoshōin Temple Ōsu, Naka Ward, Nagoya city
Religious Educational Institutions
Taishō University(Nishisugamo, Toshima Ward, Tokyo)
Chisan Senshugakuin (Chisan Vocational Institute) (Within the Head Temple Chishakuin)
Internal Religious Educational Institutions
Nartiasan Kangakuin Learning Institute (Within the Naritasan Shinshoji Major Head Temple)
Activities of the Chisan School
Our Goals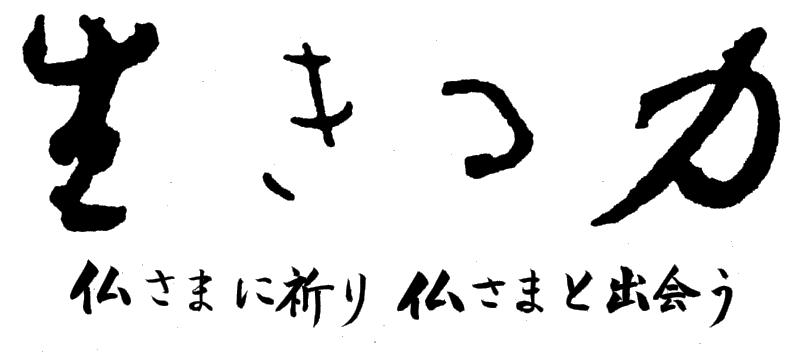 The Chisan school of Shingon Buddhism strives to be a guidepost for others and to lead them in deepening and cultivating their faith through the teachings of Kōbō Daishi (Kūkai). With the words "Strength for Living – Praying to the Buddha, Meeting the Buddha," we call out to the people to practice Buddhism.
When we pray with all our hearts, our prayers and the Buddha's desire to save all are united into one. When we pray to the Buddha, we meet with and are protected by the Buddha, and we can live feeling the Buddha's strength to live.
That is the essence of our goal's motto "Strength for Living – Praying to the Buddha, Meeting the Buddha."。