Artifact Museum (Treasure Introduction)
| Japanese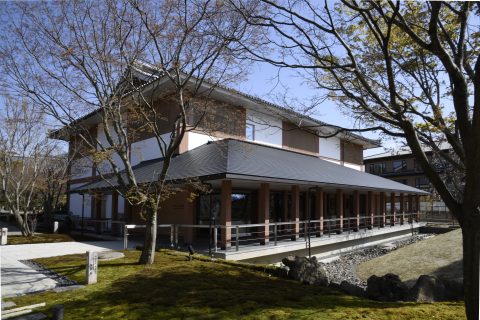 Artifact Museum was built as part of a service project commemorating the 1250th anniversary of the birth of Kobo Daishi Kukai , and Opened on April 4, 2023.
The three basic philosophies are: "acquisition and preservation in an appropriate environment", "opening and exhibition of works of art stored in Chishakuin Temple", and "research and research for the development and support of academic research and educational activities". In addition to exhibiting national treasure wall paintings by Tohaku Hasegawa, some of the approximately 80,000 collections of Chishakuin (treasures and valuable ancient documents such as the works of high priests) will be released according to the season. I will come.
In addition, at the entrance, exhibition graphics introducing the history of Chishakuin and the Chisan school are displayed, and a guidance video showing the history of Chishakuin and the precincts of the four seasons is shown. We hope that you will feel the charm of Chishakuin, which is called "learning temple".
The main head temple of the Chisan school of Shingon Buddhism, Chishakuin Temple, houses National Treasure wall paintings of various sizes as well as many treasures and valuable ancient documents including high priests' writings. Among these, many Momoyama period (16th century) wall paintings, such as "Cherry Blossom" and "Maple" by the Hasegawa school, are carefully preserved in our treasury.
Notice
・From April 1, 2024, there will be a charge for admission to the Treasure Hall for guests staying at Chishakuin Kaikan.
・About 2023 special exhibition
・About closed days
・Precautions inside the Artifact Museum
"Cherry Blossom"(National Treasure)

A strong cherry blossom tree is depicted on a background lavishly colored with an abundance of gold leaf. Utilizing a technique of piling on paint, the cherry blossoms' petals are expressed boldly one by one. It is as if from inside each petal Hasegawa Tōhaku's son Kyūzō's overflowing passion of youth is being brought out right before your eyes. It is said that Kyūzō created this piece when he was 25 years old. Sadly, he was to pass away in the following year.
"Maple" (National Treasure)

With the same extravagance as "Cherry Blossom," the many branches of an old maple tree stretch out in the sky while various flowers splay out below in a beautiful array. It is work that expresses both the power of overcoming the sorrow of a son's death as well as the calm autumn elegance during Tōhaku's 55th year, amid his continuing training.
Others

In addition, we also house "Pine Tree and Autumn Plants" (National Treasure), "Pine and Sunset Hibiscus" (National Treasure), and "Snowy Pine"(National Treasure), all of which are magnificent works that bring Momoyama period culture to life.